Charles P. L. Hill, Sky Soldier C 3/503d Vietnam, Scotland Yard world renowned stolen art detective, private investigator died February 20, 2021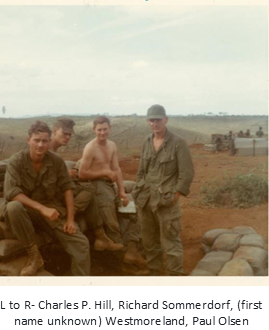 Charles Patrick Landon Hill was born in Cambridge, England on May 22nd 1947. His father, Landon, was an officer in the U.S. Army Air Force and his mother Zita was a dancer. Landon's postwar postings ranged from London, to Germany and then across the United States before the family settled in Washington D.C. Charley graduated from St. Albans school prior to drafting into the Army. After training at Fort Bragg, Charley served as a paratrooper in the 173d Airborne Brigade, (mid 1968– June 1969) during the Vietnam War. On his return, he enrolled at George Washington University and in 1971 he earned his Bachelor's degree. Following his graduation, he was awarded a Fulbright scholarship to Trinity College in Dublin and studied Theology at King's College before joining London's Metropolitan Police.  
In his 20 years with the Met Police, Charley rose from beat cop to Detective Chief Inspector, specializing in undercover work. He made a name for himself with his instrumental role in the recovery of high profile paintings. Leaning on his extensive knowledge and love of the arts, he assisted in the recovery of notable paintings as "Lady Writing a Letter With Her Maid," "Portrait of Doña Antonia Zárate," and most famously Edward Munch's "The Scream".

Following his retirement from the force in 1996, Charley continued his work as a private art detective, recovering Titian's "Rest on the Flight into Egypt" amongst other works. Up to his death he was investigating the 1990 thefts of 13 works from the Isabella Stuart Gardner museum. He died on February 20th, 2021 after surgery to repair a torn aorta. Charles is survived by his wife, Caroline, children: Susannah, Lizzie and Chris, and grandchildren: Georgia and Olivia.   
      Family Image – Charley at St. Ives